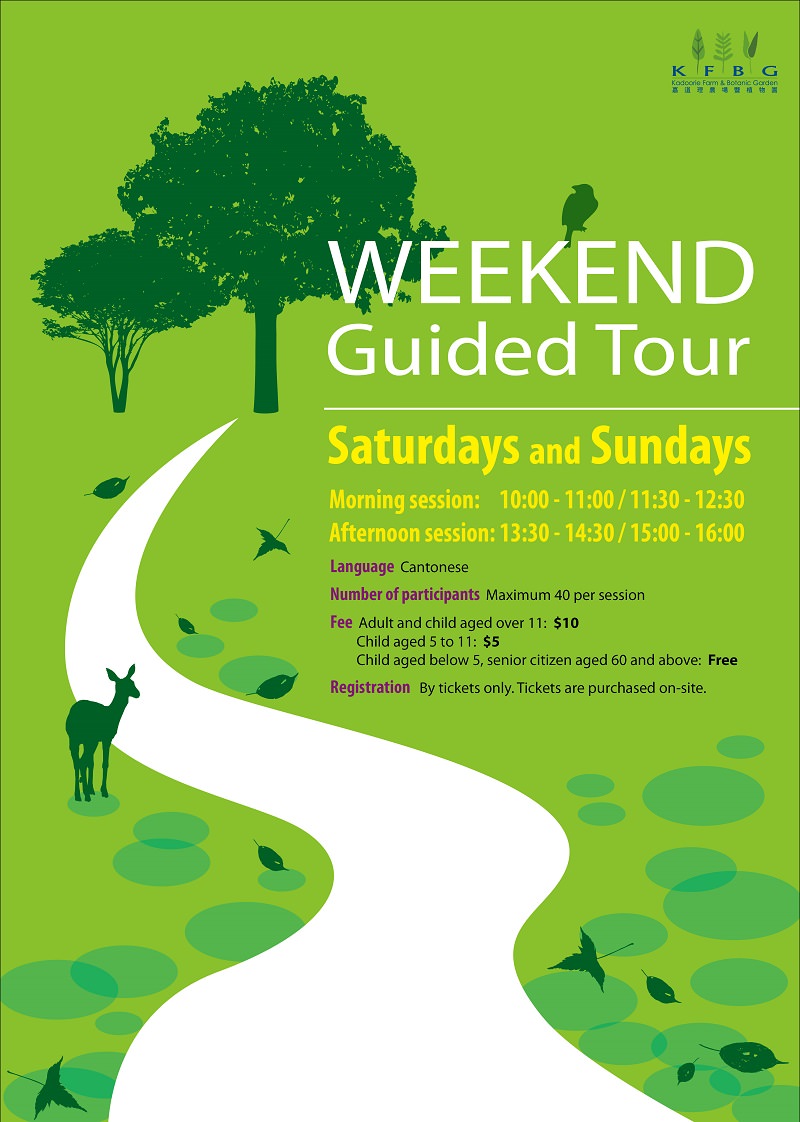 Online Nature Experience ‧ "Virtual Guided Tour"
Due to the volatile situation of the pandemic, you may not be able to join the tours at KFBG as usual. So, we have specially prepared a series of videos, which let you 'visit' KFBG's various attractions from the comfort of your home.'
Please click here to visit, and we look forward to seeing you at KFBG soon.
---
Kadoorie Farm and Botanic Garden (KFBG) spreads over 148 hectares of land on the northern slopes of Tai Mo Shan with a mission 'To harmonise our relationship with the environment'. KFBG is a unique place that offers wide-ranging educational opportunities for the public.
The weekend guided tours are open to public visitors. They are led by trained Nature Education Volunteers to visit our gardens, conservation facilities and educational displays at the Lower Area, and to learn about South China biodiversity, native wildlife conservation, organic farming, sustainable living and nature appreciation.
Date and Time
**Weekend guided tours will be temporarily suspended until further notice.**
Saturdays and Sundays (except KFBG closing days)
10:30 - 11:30 (Registration starts from 09:30)
12:00 - 13:00 (Registration starts from 09:30)
14:00 - 15:00 (Registration starts from 13:00)
15:30 - 16:30 (Registration starts from 13:00)
*KFBG has the right to cancel the weekend guided tours in case of bad weather conditions or other special circumstances without prior notice.
Walking Route (for reference only)#
Plaza -> Pigsties -> Raptor Roost -> Amphibian and Reptile House -> Streamlife Display -> Parrot Sanctuary -> Wildlife Walkthrough -> Orchid Greenhouse

#Walking routes may be subject to change according to weather or other special conditions
Language
Cantonese
Number of participants
Maximum 40 per session
Fee
12-59 years old: HK$10
5-11 years old: HK$5
Below 5 years old, 60 or above, or registered disabled individual: Free
Registration
Please purchase tickets on-site.
Enquiry
2483 7200 / education@kfbg.org
Remarks
No advance reservation is allowed. Weekend Guided Tour ticket is purchased on-site on a first-come, first-served basis.
Guided Tour ticket is only valid on the day of issue, and for the tour session marked on the ticket.
Please note that visitor can get a refund for the Guided Tour ticket from the registration counter before 1630 on the same day of purchase in the event of cancellation of the guided tour because of bad weather conditions, e.g. rainstorm warning, flooding, typhoon or other special circumstances.
There is no refund or exchange of tickets if the visitor is late and misses the guided tour at the scheduled time.
Participants must follow KFBG's visitors' guidelines.
Should there be any controversy, KFBG reserves the right of final decision.
Remarks
KFBG reserves the right to change the contents, venue and or time as necessary, depending on weather conditions.
KFBG will not be responsible for any injury; loss of or damage to participant's belongings while engaging in activities organised by KFBG or arising from the use of tools, equipment and/or facility provided or owned by KFBG.
All participants should take reasonable care concerning his/her own safety during such activities and participants should arrange for adequate insurance coverage if deemed necessary.