Home for Christmas
15 January 2020 |
Plants & Us
After decades in the Scottish capital, an international collaboration finally brings two very rare Hong Kong plants back to home turf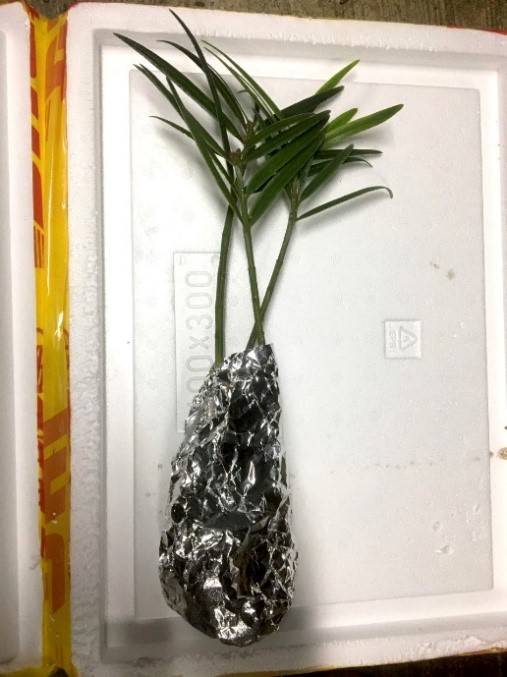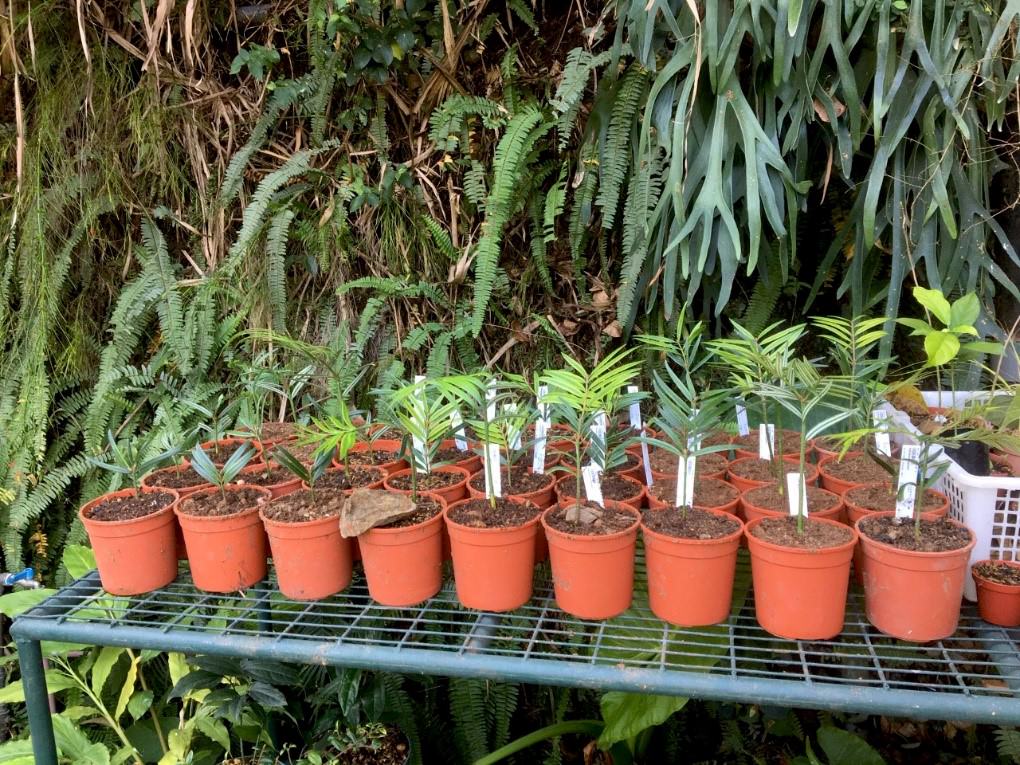 Before and after: Amentotaxus argotaenia cuttings being unboxed following their journey from Edinburgh (left) and after being potted-up in the KFBG nursery (right).
In 2017, staff of KFBG's Flora Conservation Department (FLO) made an exciting discovery through BGCI's (Botanic Gardens Conservation International) Plant Search, a database designed to help botanic gardens share material for conservation purposes. Thousands of miles away, the Royal Botanic Garden Edinburgh (RBGE) had a specimen of Amentotaxus argotaenia, a very rare and slow-growing coniferous tree native to Hong Kong that had been collected from Tai Mo Shan back in 1976! Botanists at RBGE agreed to propagate the tree and over the next two-and-a-half years they lovingly prepared 40 rooted cuttings.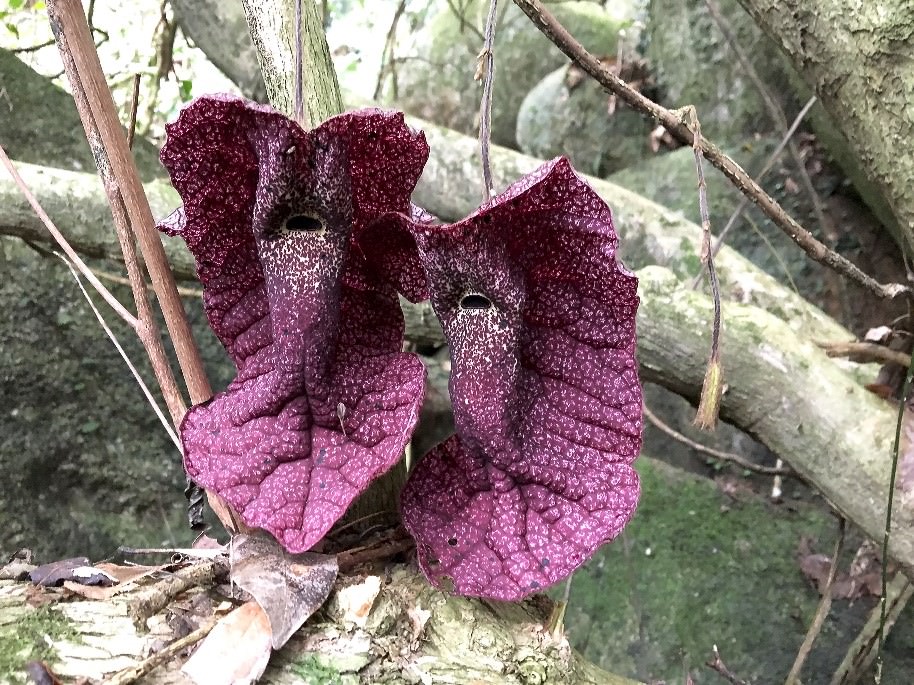 Flowers of Aristolochia westlandii
The long-awaited arrival of these plants finally took place in November. What's more, they were accompanied by cuttings of Aristolochia westlandii, a very scarce and similarly precious vine known only from Hong Kong and neighbouring Guangdong Province.
"It was a real bonus to discover that RBGE also had Aristolochia westlandii, as we only know of a handful of individuals in the wild", said FLO's Senior Curator Craig Williams.
"This species has huge flowers that attracts flies by mimicking decaying meat and traps them inside the flowers overnight to pollinate them. It is quite slow growing and is also eaten by caterpillars of the Common Rose butterfly."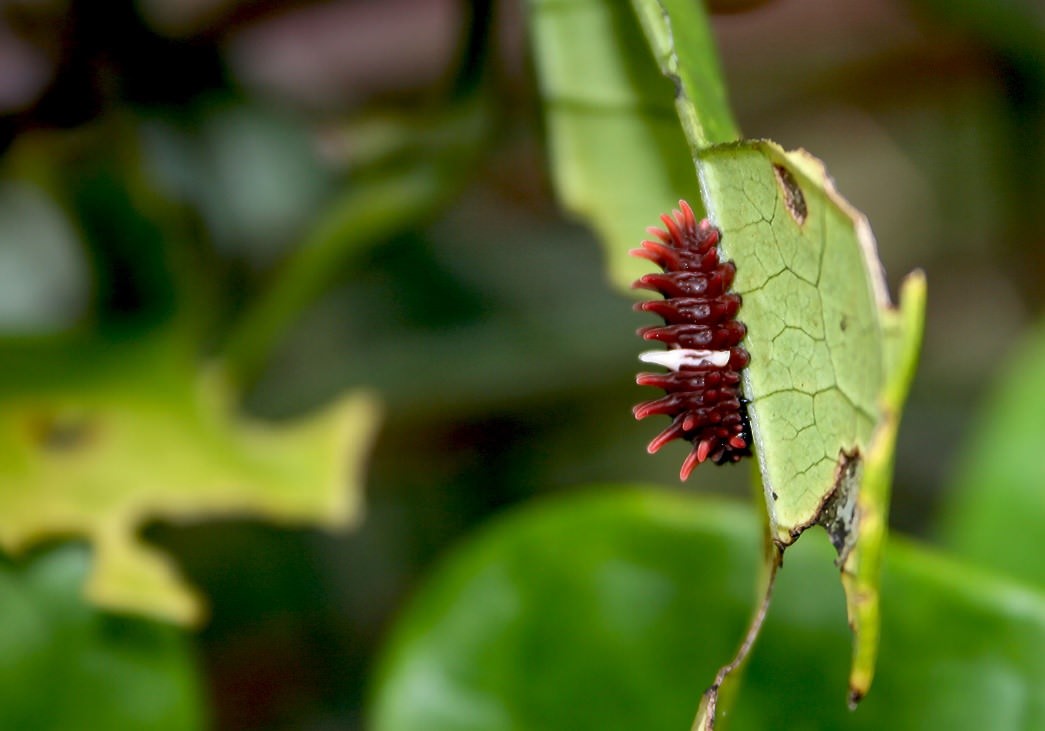 Caterpillar of the Common Rose butterfly, Pachliopta aristolochiae
But here comes the really exciting bit – let me tell you why acquiring cuttings of Amentotaxus from RBGE is a big step forward in conserving the species in Hong Kong. Amentotaxus argotaenia has separate male and female plants, and for as long as we can remember, our field teams have never been able to find any seeds in the wild and we believe that all surveyed individuals in Hong Kong must be lonesome males, curtailing hopes of ever obtaining a new generation of genetically diverse offspring. Well, guess what: our newly arrived cuttings from across the globe are female! Could this mean that female plants do still occur somewhere in tucked-away corners of Hong Kong?
This year, we have coincidentally been granted permission by the Agriculture, Fisheries and Conservation Department (AFCD) to collect cuttings from the remaining wild populations in Hong Kong. We are thrilled to be given the opportunity to find a suitable partner for our new female arrivals from Edinburgh.
Head of FLO, Dr. Gunter Fischer said, "This is a great example of a shared vision for the conservation of rare plants and shows how botanic gardens can collaborate to put their living collections to constructive and practical use in global conservation efforts."
The plants will now be used in FLO's ongoing ecological restoration efforts on KFBG's hillside. We hope that they will soon settle in to take up a permanent place alongside their local suitors and begin to reproduce!
Royal Botanic Garden Edinburgh: Gift of Conifer Trees for International Conservation