Natural Wood Workshop – For Secondary School Students
1. Objective/Nature
In this workshop, participants experience a highly creative process rooted in connecting with nature, and will understand the ecological importance of trees. Participants will gain practical skills in woodworking safely and efficiently with simple woodworking hand tools, revisiting this age-old method of creation, to produce handmade wood products.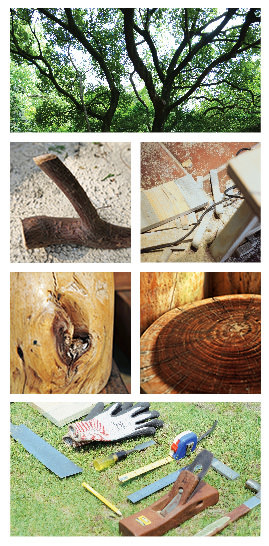 2. Content
The workshop comprises three main components and will be held in both classroom and outdoor environments.
WOOD IN NATURE
Exploring different wood types and species found in KFBG.
Understanding basic tree ecology.
Experiencing the relationship between trees and us and other elements of nature.
WOODWORKING SKILLS AND PROCESSES
Demonstration of how wood is milled in production.
Hands-on crafting, using basic to advanced woodworking skills such as measuring, using marking tools and hand-tools; safe operation of small tools such as handsaws and palm sanders.
HANDMADE WOOD PRODUCTS
By the end of the workshop, each participant will be able to take their finished products home as souvenirs of what they learned with KFBG.
3. Dates & Time
This is a half-day workshop held on every Wednesday or Friday
0930 – 1230
4. Target Audience
Secondary School Students
5. No. of Participants
22 people maximum per workshop (Students and teachers)
There must be at least one adult for every 12 students

6. Language
Cantonese/English
7. Fee
HK$50 per participant
Covers all costs of the workshop, including necessary materials, tools, staffing, and the finished woodworking products.

Note: KFBG will not refund the payment once confirmed unless it is cancelled due to inclement weather condition.
8. Venue
Kadoorie Farm and Botanic Garden
9. Application
Applications are accepted on a first-come, first-served basis. Please click here for online registration. Please submit your application form to KFBG at least four weeks in advance.
10. Enquiry
Please contact Ms. Rose Chung of the Education Department at (852) 2483 7112, or email rosechung@kfbg.org
Related Links