Interview with KFBG Botanical Artist-in-Residence, Mark Isaac-Williams
23 July 2020 |
Plants & Us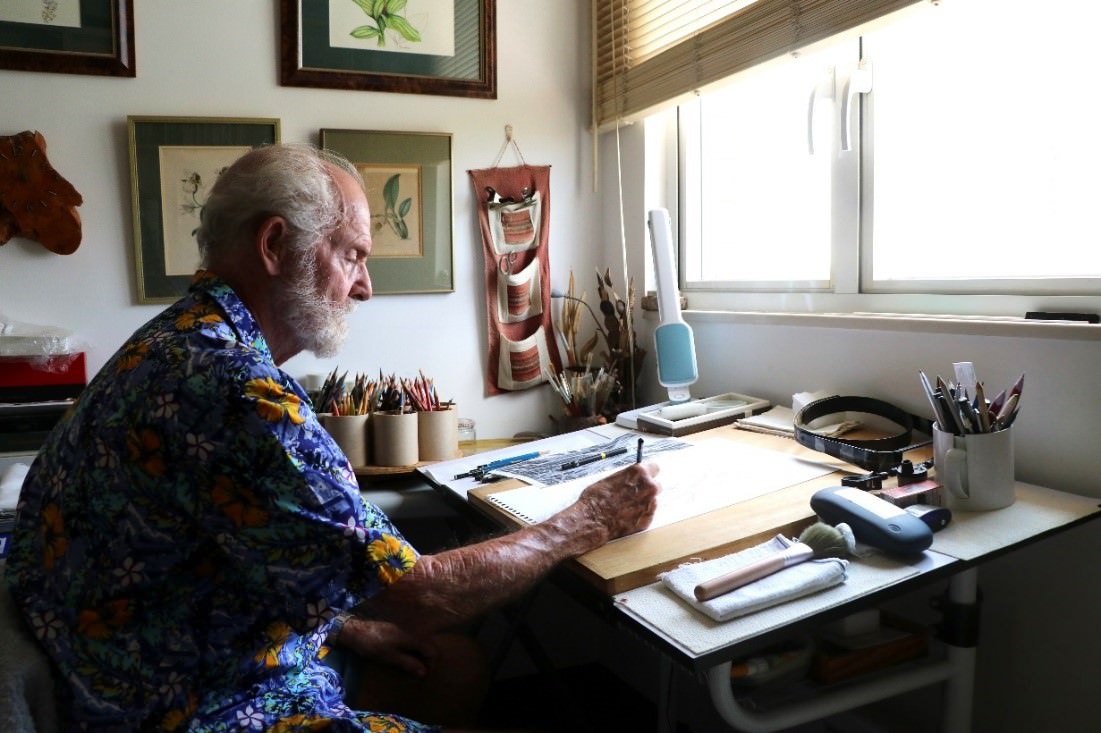 The practice of botanical illustration has been around for centuries. Some of the first documented botanical discoveries date back to the 15th to 18th centuries, when explorers and scientists went on expeditions to remote lands to observe and describe exotic flora and fauna. Illustration was extremely important for this purpose, with emphasis being placed on the accurate recording of scientific details to enable positive identification of species. On top of that, aesthetics has always been a crucial consideration, with composition, colour and presentation playing important roles. In the past, botanical art was used primarily by botanists for describing and documenting the plant kingdom. Nowadays, botanical artwork is enjoyed and loved as a form of art in its own right, but always one that reflects the true size, proportion and colours of the subject. These wonderful images are often included in botanical books to convey the beauty of nature.
KFBG's very own botanical artist-in-residence, Mark Isaac-Williams, is a botanist himself who worked as a horticulturalist at what was then the Kadoorie Agricultural Aid Association in the 1970s and subsequently published a book on the orchids of Asia in 1988. Mark was born in Hong Kong in 1940 and developed a love for nature and botany from an early age. As a boy, he would record plants and insects in pencil and watercolor. Having departed for England and then Australia in the 1960s to pursue a career in horticulture, Mark returned to Hong Kong in 1979 and found himself drawn back to KFBG to work as a horticultural consultant in 2008. Having taken several botanical art courses, Mark decided to start painting full-time in 1979. Mark's line drawings have since been used in the book 'The Wild Orchids of Hong Kong' (Barretto, Cribb & Gale 2011, Natural History Publications (Borneo) and Kadoorie Farm and Botanic Garden) and his watercolours have won three Silver Gilt medals at the Royal Horticultural Society (RHS) Botanical Art and Photography Exhibition in London.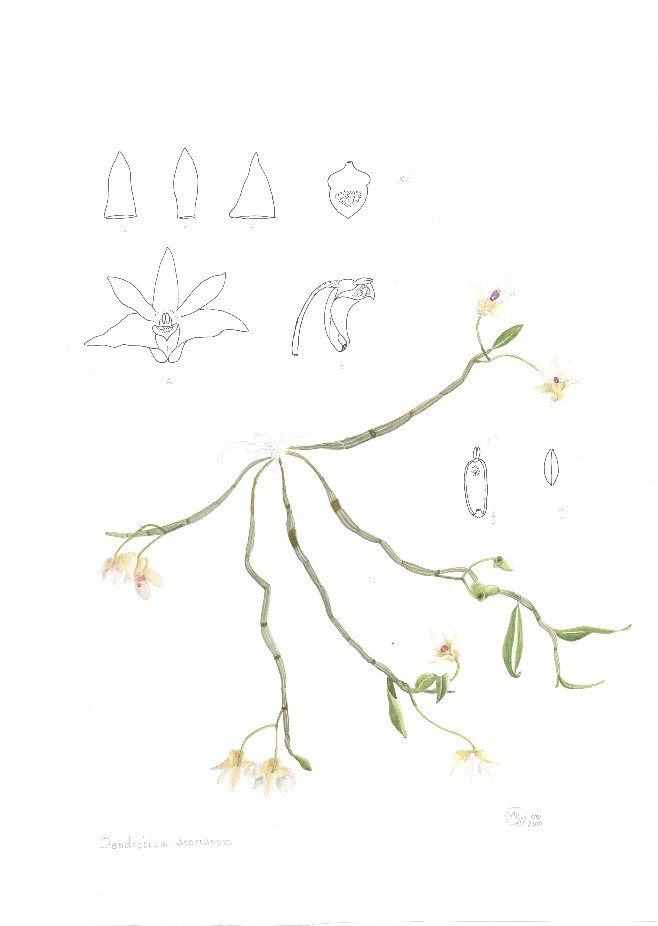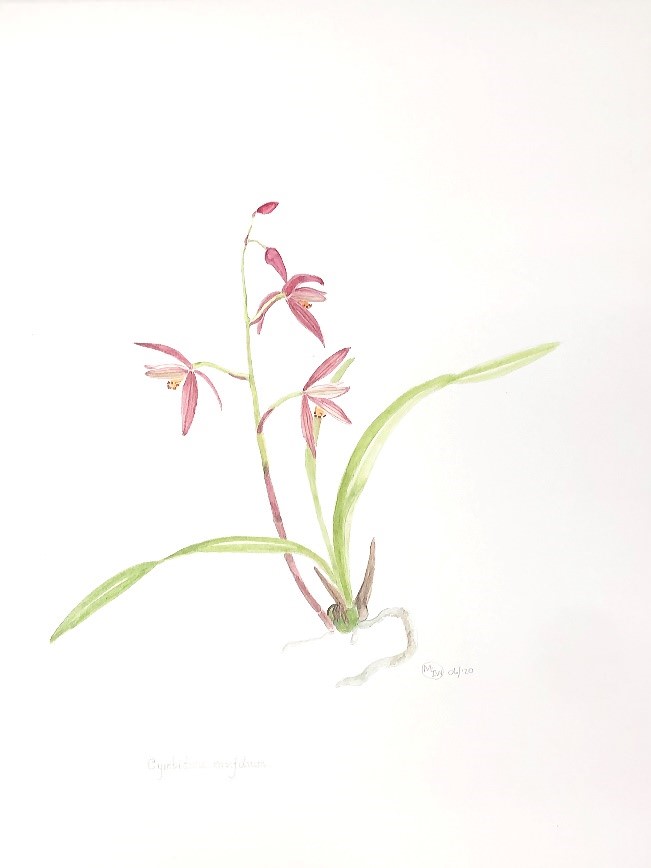 To learn more about botanical art and Mark's motivations for his calling, I interviewed Mark in his studio at home in Kowloon in September 2019.
Kit: Hi Mark, thanks for sparing the time to talk with me today. I would like to learn more about botanical art and its relevance in science today. Firstly, please can you tell me what inspired you to take up botanical art?
Mark: As a horticulturalist, I have always enjoyed spending time outdoors. I remember one occasion, it was Autumn, and I was having a walk in the countryside in Suffolk [in the East of England]. The beautiful colours of the fallen leaves caught my eye. I picked a few up and started to paint. Later, back in Hong Kong in the year of 1979, I started working with Mrs. Baretto illustrating the native orchids of Hong Kong. It was she who inspired me to start painting orchids.
K: I imagine starting as a horticulturalist and then moving on to painting, you must have had a pretty good understanding of botany and plant anatomy to begin with. What do you find think is the most attractive or interesting aspect of botanical art? And what is botanical art to you?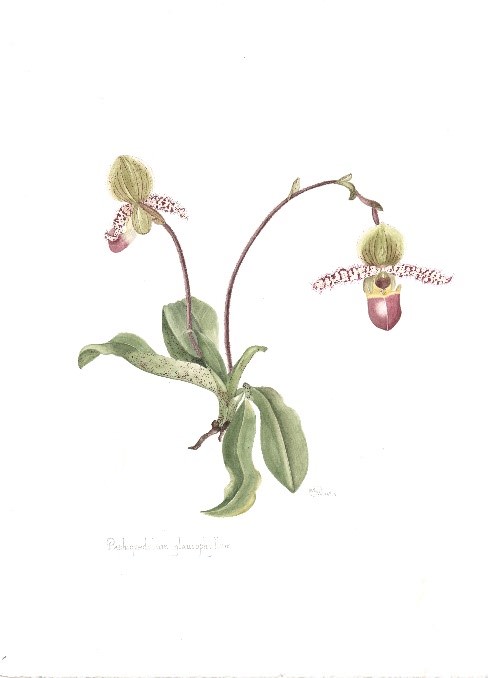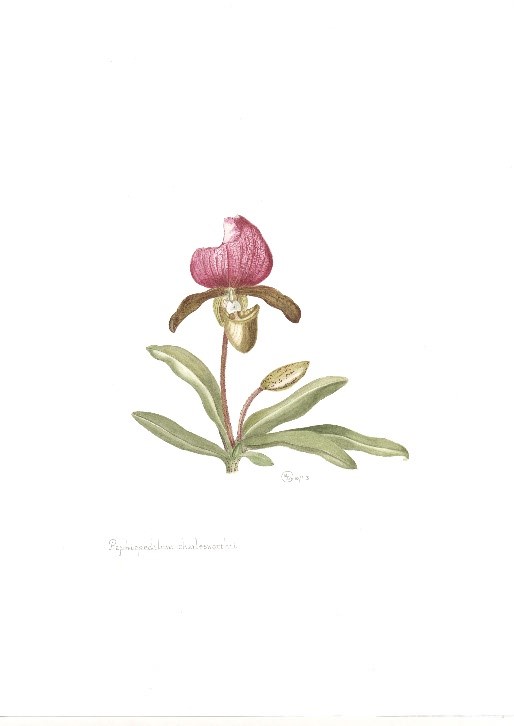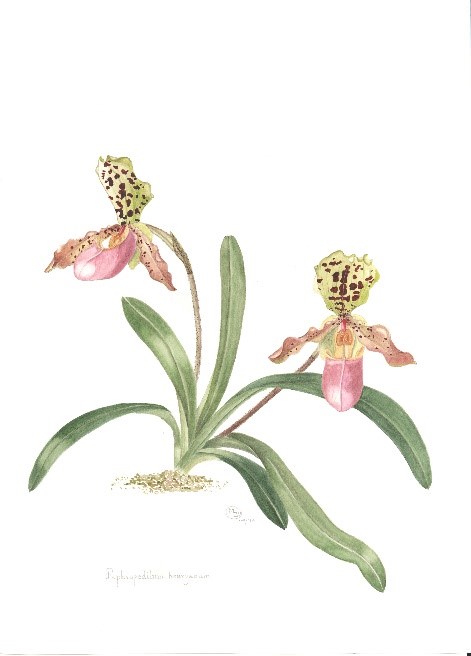 M: Botanical art to me is a way to connect myself to nature. When I see something attractive, I want to record it by painting it. And every time I look at it, it takes me back to the moment. I really enjoy doing the details of orchids. The little stripes, spots and dots on the flowers. The details, shapes and sizes. The kind of variation in size is amazing. The flowers can be as tiny as 3 mm to as tall as 30 cm!
K: Wow. That's exciting. How long have you been drawing? And how long did it take for you to develop your style?
M: I started drawing early on as a child, and I always really enjoyed it. When I was living in England, a friend of mine took me to a drawing class. There I saw a painting that looked more like a photo than a painting. Later on, I decided to start drawing with pencils and watercolor, and I just loved the feeling it conveys.
K: Oh, I wish I could see that painting. Do you have a favourite piece among your portfolio?
M: I do actually. I have done a collection on pitcher plants some years ago. There is one that I particularly liked, and it won a distinction award in the 17th Annual Botanical Art Exhibition in 2015, in Filoli, California, USA. I remember that I really enjoyed doing the details of the dangling pitchers and the different shapes.
K: I would really love to see that painting if possible.
M: Of course. I have it with me here.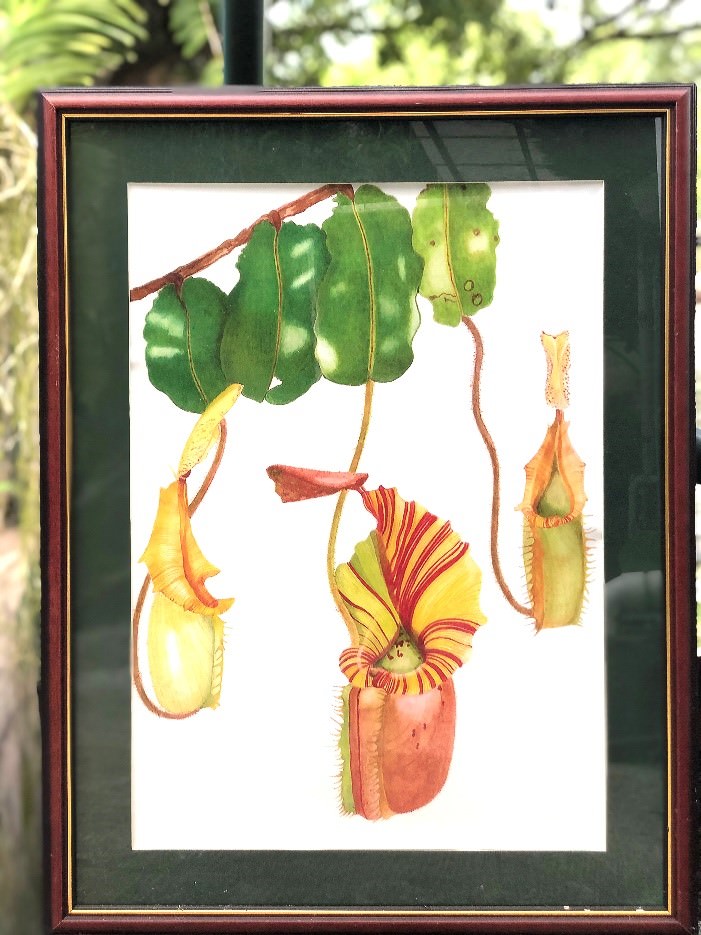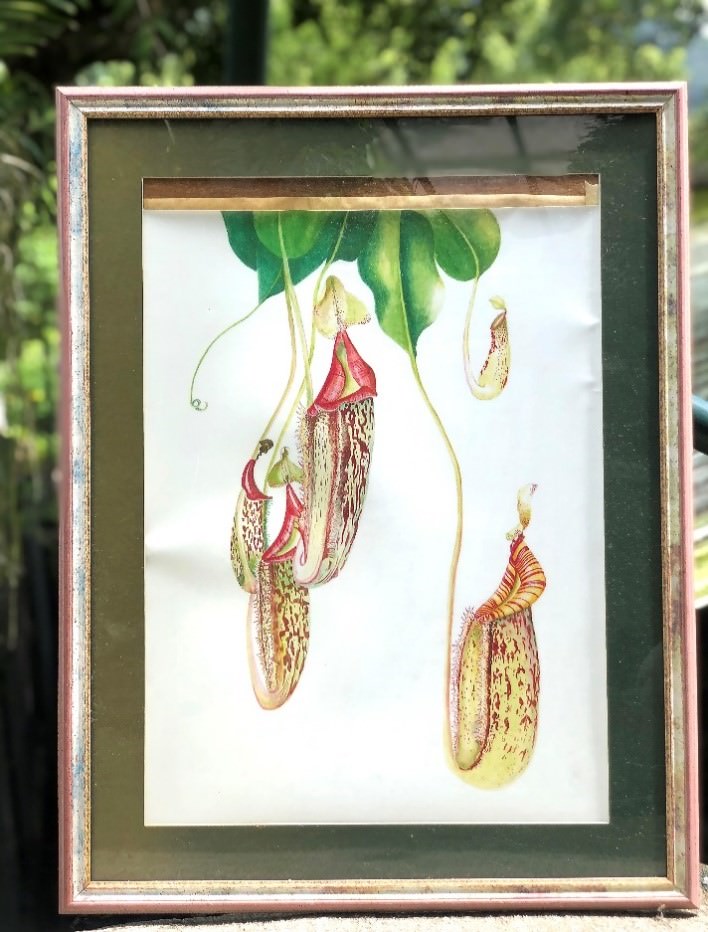 K: Great! Can you tell me what you think is the most important thing to consider when making botanical art?
M: It is very important to really observe the details, for example all the fine components of the flowers. Every detail needs to be correct, and it is vital to capture it at a good angle so that it represents the plant in real life. It is also important to consider the composition.
K: And how do you do that? What are the steps?
M: That comes with practice. For short-lived orchids, I tend to start doing the flowers straightaway. It is important to get the colour right, and then I go on and add the stems and other parts.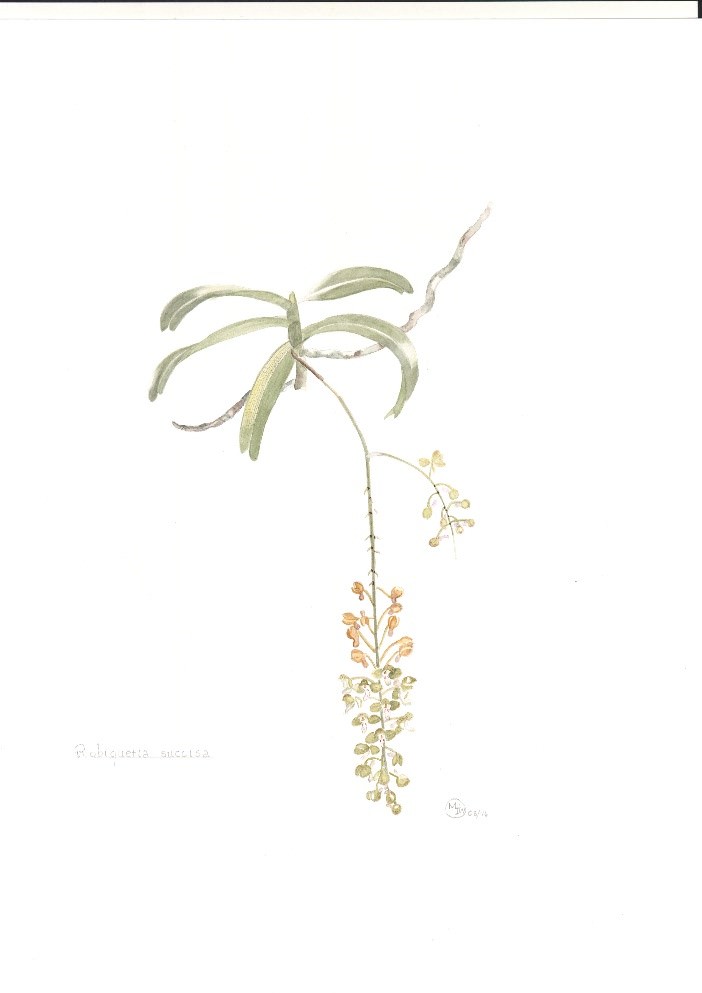 K: What are some challenges?
M: The leaves are sometimes challenging, particularly those of Phaleanopsis orchids. They have flat leaves with a deceptively uniform coloration, but that make them more interesting. And for some tiny flowers, I have to use a microscope. I like white flowers. I don't actually paint them, but I use a pale grey to create the shadows – that is usually enough to give the flowers shape and form. However, pale yellow flowers are more difficult. I tend to do the shades with pale violet. And cream is the most difficult to express.
K: What is your next project?
M: I hope to participate in the RHS Botanical Art and Photography Exhibition one last time. Despite orchids being my passion and focus, I have actually never exhibited any of my orchid collections at the RHS. The first collection I exhibited was the Ficus microcarpus, followed by bamboos. And thirdly, a collection entitled 'The Flowers, The Pollinator and The Fruit'. So I would really like to exhibit a series on orchid species.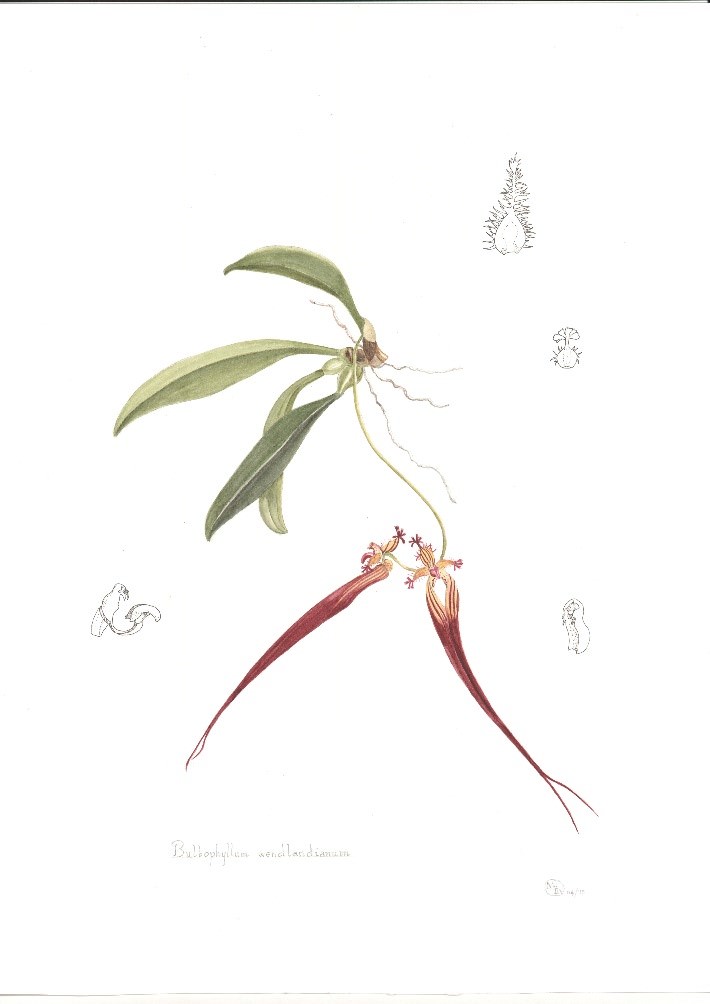 K: What keeps your passion going?
M: I strive to improve on each new painting I do as I am usually never fully satisfied with the results. Also to produce paintings that are worthy and knowing that people like them.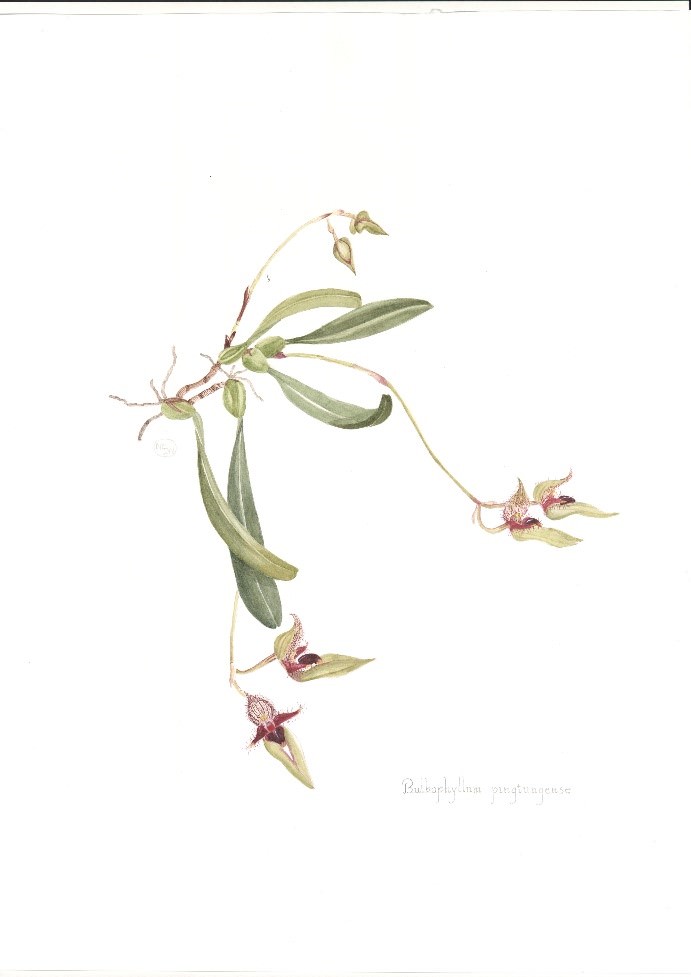 K: In your opinion, do you think botanical art is dying? Given how digital art and other forms of modern art are taking over the art world, is botanical art becoming obsolete?
M: I think botanical art will always be a feature in the art world, and the work of good artists is still in use sometimes hundreds of years after it was produced. Cameras and modern technology still cannot pick up the detail that the human eye in able to. And paintings convey colour more accurately.
K: Thank you so much for your time, Mark. I am looking forward to seeing more of your paintings!
Mark's passion and dedication to nature and plants are undeniable. Just over 80, Mark is not showing any signs of slowing down. He is now working towards another entry to the Royal Horticultural Society (RHS) Botanical Art & Photography Exhibition in the coming year. Keep an eye out for our botanical artist!