Meet the Chinese New Year Beauty Queens
29 January 2020 |
Plants & Us
Lunar New Year is not only the most important festival in the Chinese calendar, it is also the time of year in which many native Hong Kong plants come into bloom. As these beauties break bud, their flowers radiate a kaleidoscope of pink, rose, crimson and scarlet, complimenting the vibrant New Year atmosphere. Let me introduce you to four new year beauty queens that are coming into flower in our garden right now.
Chinese New Year Flower (Enkianthus quinqueflorus)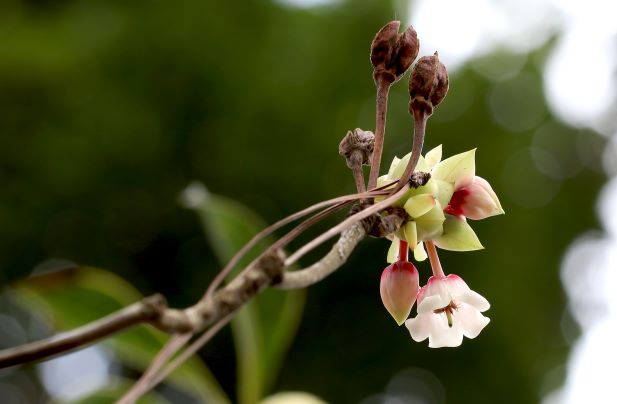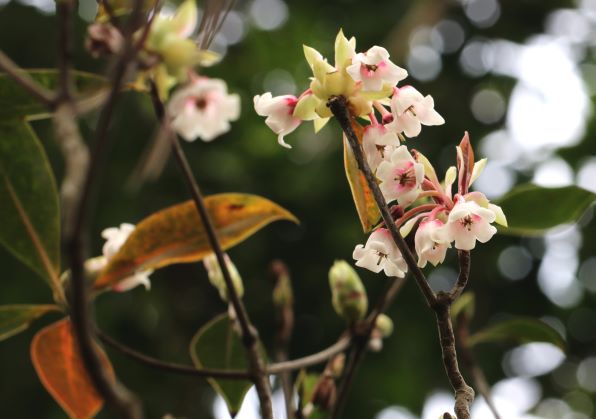 This is a deciduous shrub or small tree that flowers through the Spring. Whereas the genus occurs across a broad sweep of temperate and subtropical Asia, this species is itself rather more localised to parts of south and central China and northern Vietnam.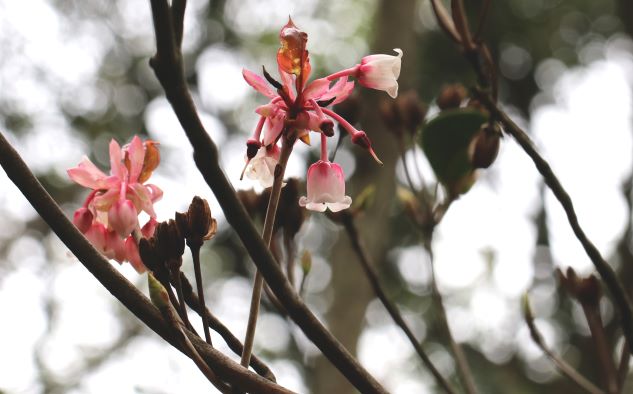 Enkianthus quinqueflorus is a lunar new year favourite for good reason. Its abundant clusters of pendent, semi-transparent flowers are not easily overlooked and have earnt the species the common name 'Pink Chandelier'. Each flower is clasped at base by a fringe of bright magenta bracts and the tube formed by the five fused, pink petals gives them the appearance of a petite bell. What's more, fresh clumps of prominently veined, glossy leaves are unfurled at around the same time. However, beauty comes at a price. It has attracted unwanted attention from collectors, which has in the past brought it close to extinction! The species is therefore listed as a protected species in Hong Kong and that collection is strictly prohibited.
Taiwan Cherry (Prunus campanulata)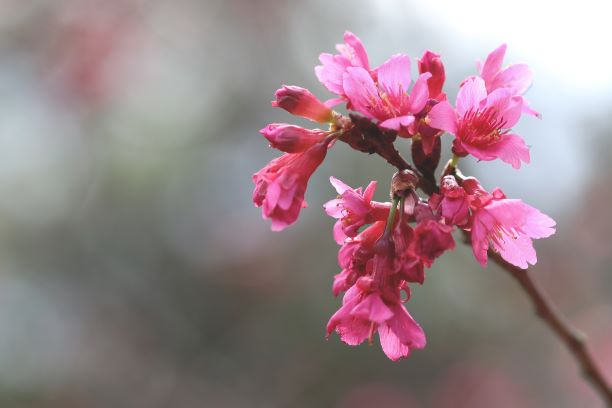 Prunus campanulata is a popular ornamental cherry that is native to China, Taiwan and Vietnam. Scattered trees on KFBG's upper slopes put on breath-taking displays before leaf flush from the end of Winter into early Spring. Their large spreading crowns turn the hillside into a riot of crimson and cerise, but don't dally to catch these trees at their best – rising temperatures in early to mid-Spring soon bring gusts that carry off flurries of delicate petals.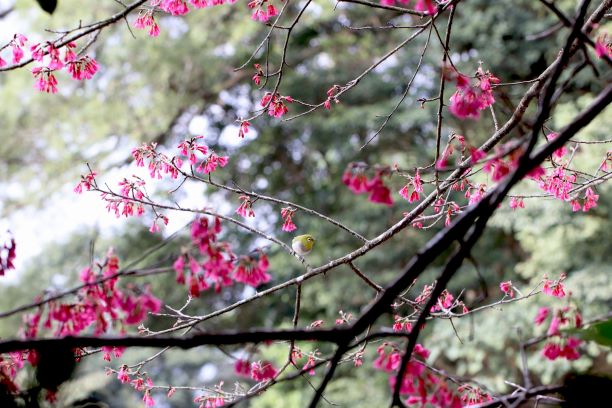 As you admire this enticing sight, don't forget to keep an eye out for colourful birds, such as the sunbird and Japanese white-eye, which are also attracted to this irresistible beauty. Like most cherry trees, this species prefers to grow in semi-shade on rich, well-drained soils.
Red Azalea/ Sim's Azalea (Rhododendron simsii)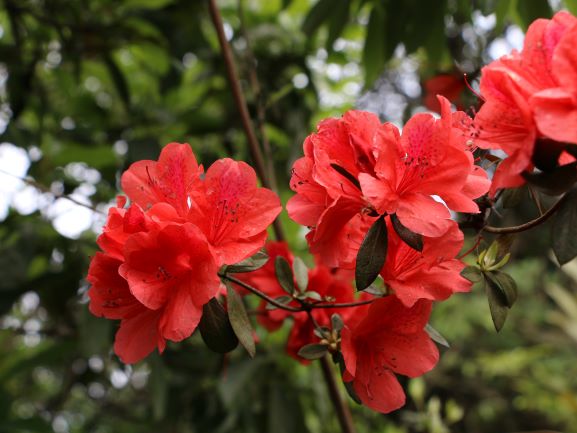 There are six species of Rhododendron native to Hong Kong, most of them rare. Rhododendron simsii, however, is widespread and abundant. Even so, its bushy, low stature habit makes it inconspicuous for much of the year, but come the Spring, its large, vermillion flowers set the countryside ablaze. Commonly sighted on open hillsides, in secondary thickets and along shaded, rocky streams, this plant is a quintessential component of our countryside. But beware – this is a poisonous beauty! Every single part of the plant is toxic if ingested.
The showy flowers of R. simsii are visited by bees and once pollinated produce many tiny seeds. Owing to its dazzlingly attractive flowers, the species has been cultivated as an ornamental for centuries. Potted azaleas sold in flower markets and garden centres around the world will invariably contain some R. simsii blood, the result of countless crosses and years of artificial selection – today, well over 2000 cultivars are known.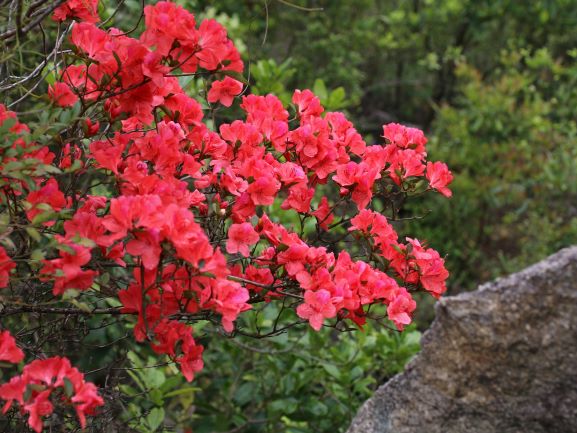 Come and see them in all their natural glory, flowering generously along trails and in roadside planters throughout KFBG from the lunar new year until May.
Rhodoleia (Rhodoleia championii)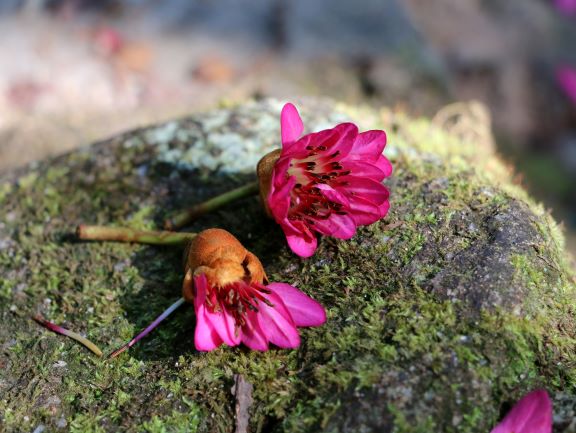 Rhodoleia championii is an evergreen tree with thick, leathery leaves and strikingly beautiful, drooping rose-red flowers. It occurs naturally from Nepal and Bhutan, through China to Vietnam. It is able to withstand relatively low temperatures and blooms in the cooler months of the year.
At a glance, the flowers of R. championii resemble those of E. quinqueflorus, though they are significantly larger. Hence the Chinese common names of either species complement one other: whereas E. quinqueflorus is known as the hanging bell-flower, R. championii is called the majestic hanging bell. Taxonomically they are unrelated, however, with R. championii belonging to the witch-hazel family and E. quinqueflorus belonging to the heather family. Take a closer look and you will see that the number and arrangement of the petals and other flower parts are quite different.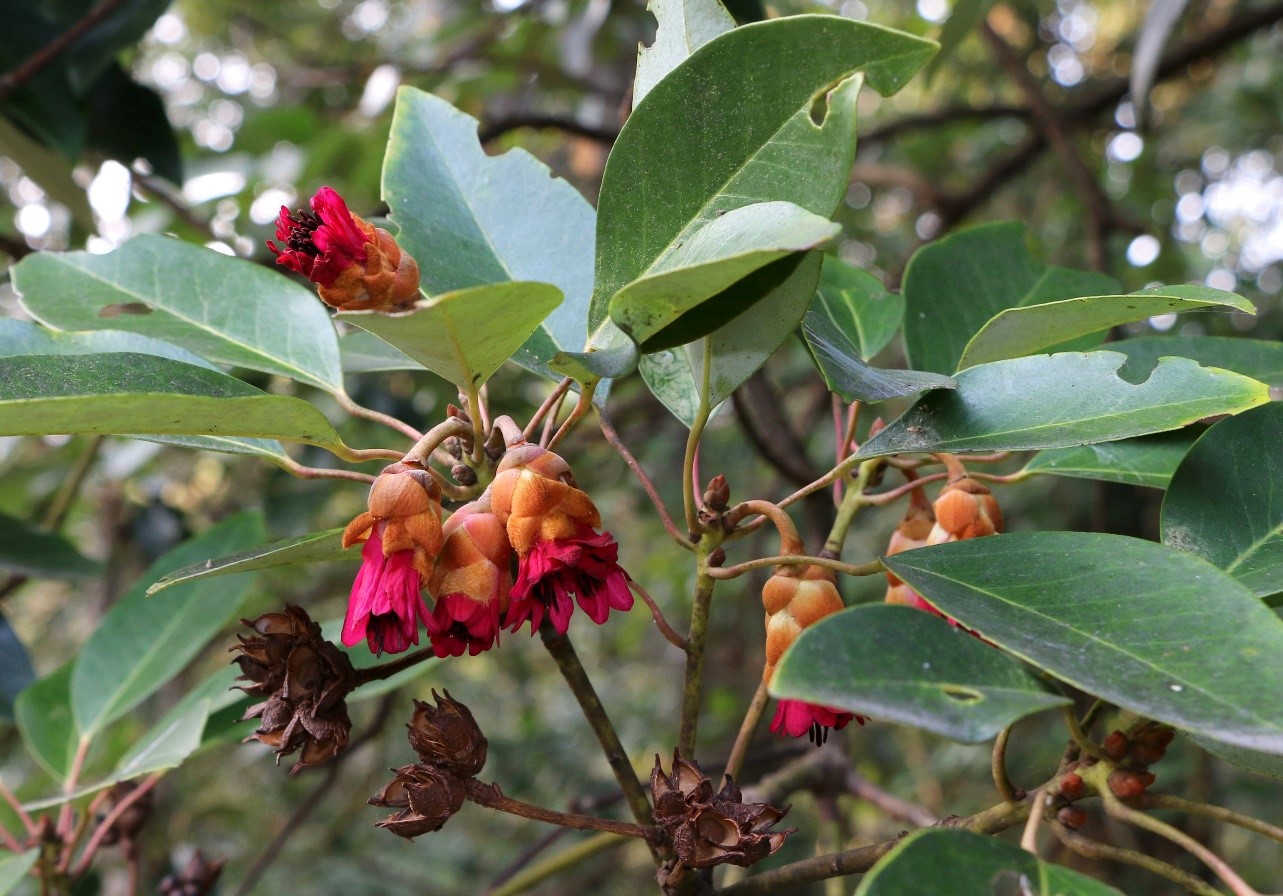 Due to its rarity, this tree is considered Vulnerable in the IUCN Red List and is a protected species in Hong Kong. Accordingly, it is not easily spotted in the wild, and is a modest beauty at KFBG, too. But venture off the road and onto some of our more secluded trails and you could be rewarded by the splendid sight of its stately flowers during February, March and April.
The lunar new year heralds the onset of Spring and the onset of the flowering season for many plants. I invite you to pay a visit to our beauty queens and see which one you like best!